There are factors to consider but the first question you should ask yourself is – who is my audience, and what do I want them to do? Is your audience other businesses or consumers? Are you selling services that require building thought leadership or do you have a commodity that requires top-of-mind presence at all times because you just never know when the buying decision happens? There are a lot of options, but for most small businesses it comes down to three platforms:
Facebook
If you are a business-to-consumer venture or you need to reach the general public with your message, by all means build and maintain a robust Facebook presence. But Think's clients are typically business-to-business making the effectiveness of Facebook nominal. When people are on Facebook they are separating from their work life, making it a tough spot to reach business buyers – but a great place to reach consumers. Keep in mind that even if your company is B2B, Facebook can help when people research your business. For some, not existing on Facebook might mean you do not exist to them at all.
Twitter
It is easy to understand why Twitter has become so popular amongst everyone, including businesses. It is easy to get up and running on Twitter quickly and it certainly feeds the ego when you are favorite or retweeted. Add to this the fact that you can display a Twitter feed on your own website and it can be positively intoxicating. But is it effective? Remember what we said up front – consider your audience and outcomes desired. If you are looking to drive awareness, personal or corporate, Twitter is effective. But it has limits, you cannot drive thought leadership in 140 characters. If your service is complex, your tweets should be links to articles with a sentence of commentary from yourself or better yet links to your own blogs.
LinkedIn
I had an interesting conversation with a new client who is in love with Twitter. Did I say conversation? It was more of a spirited debate as I espoused the importance of LinkedIn for B2B marketing and she considered LinkedIn a platform simply to look for or be ready for your next job. More than job posts and networking, LinkedIn serves as a repository for business articles and smart businesses (like our clients) are using it to promote thought leadership. You are able to do this through your own company page, forums, or by targeting a list of your prospects with a pay campaign that can get you in front of the level of the professionals in your specific geographies.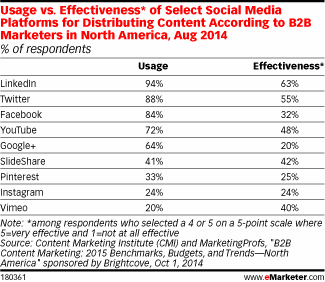 But don't take my word for it. Recently eMarketer reported on the effectiveness of B2B social media. An astounding 94% of B2B marketers in North America use LinkedIn to distribute content and nearly two-thirds (63%) consider it effective. Compare that with 55% and 32% of B2B marketers considering Twitter and Facebook effective respectively.
Finally a word about YouTube, the leading video social media platform in terms of effectiveness. Remember all that talk about Google's search algorithms? Don't forget who owns YouTube – Google. And yes, having a YouTube video on your site boosts your search effectiveness. The Think Agency partners with Think Media Studios and would encourage you to look at their portfolio.
There are two incredibly important action items to remember once you have set up your social media accounts: updating with consistency and monitoring your results. It makes no sense and frustrates your target audience if you set up a social media account and let it sit dormant. Monitor your accounts so you know what is working and keep at it.
In the meantime, if you need assistance with implementing the right social media strategy, contact us and we would be happy to help. Often this strategy involves blogging, which has the added impact of driving search success.