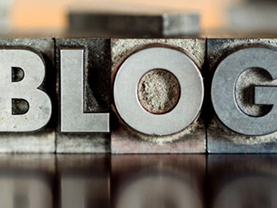 Seems like everyone is blogging these days – individuals, ex-newspaper folks, organizations… but are you? And should you be?
Well blogging can accomplish many things, but first of all – what is a blog? Blogs are an opportunity to provide ongoing insights, and afford two-way communication with readers. The best blogs provide information difficult to find anywhere else to a targeted audience, accompanied with insights. They report news, share experiences, best practices and sometimes, very strong opinions.
One specific way a blog can help is by driving traffic to your site. Nothing helps you build keywords and searchable content like blogs. And while you drive traffic comes the opportunity to build brand and establish thought leadership.
Take one client specializing in broadband networks. Their website was receiving an average of 200 visitors a month.  By introducing a blog (updated 3-4 times a week) to their website, our client's website eclipsed 10,000 visitors a month – just six months into the blog's existence.
So in a competitive landscape, our client was able to drive leads, develop a leadership position in the industry, and grow a relatively new brand.  The blog fast became the industry's go-to resource while concurrently members of the organization where given a seat at the table from everywhere to potential clients, to speaking opportunities, to policy-shaping through meetings with the White House.
Do you need to establish your brand and organization as the industry leader? Do you need to differentiate between yourself and a crowded marketplace of competitors? Contact me to find out how Think can get your blog up, running (we will write it for you), and driving opportunities.
Trackback URL: https://thethinkagency.com/blogging-for-mindshare/trackback/