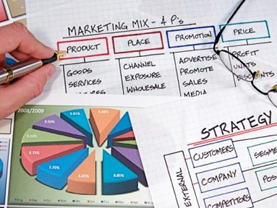 Recently I partnered with MediaPost to conduct a survey among marketing professionals to uncover the changing demands of their role. In short – an overwhelming majority of them cited increasing pressures to show measurable results and be accountable as their biggest challenge.
How we do this as marketers can be tricky – resources are scarcer than ever, but we are being asked to be more deliberate in how we allocate our budget, and to measure impact.
So more and more marketers are taking steps to ensure that they have clear market feedback to ensure the success of their marketing efforts. While good old-fashioned creativity, market knowledge, and the "gut" are all powerful tools to develop messaging, the evolution of market research has made it more plausible than ever to obtain research without slowing time to market and breaking your budget. The huge paradigm shift created by the availability of online research has changed market research from an overly expensive, long, and untimely venture to a process that can provide invaluable insights and effective measurement along every step of the marketing lifecycle.
Feedback for Strategy Development
Measure Market Attitudes & Opinions to understand where you fit within a product category, product usage, and brand perceptions
Map your Competitive Landscape including market structure, opportunities, and the competitions' strengths and weaknesses (an excellent opportunity for growth)
Feedback for the Creative Process
Test Positioning and Positioning Statements to select the most effective messaging
Test Ads and Ad Copy before your ads run to measure favorability, likeability, and recall – will your ad deliver the desired result?
Measuring Effectiveness
While every campaign is measured by tangible results including clicks, inquiries, and sales – a measure often overlooked is how each ad affects brand perceptions, favorability, and recall – or more plainly stated, the brand impact of campaigns. The Think Agency can help you understand the brand effectiveness of a campaign by administering 'pre' (prior to launch) and a 'post' surveys to measure campaign impact on a brand – or "lift."
Trust our team to help integrate market feedback and measurement so you can welcome, not fear, accountability. For more information on how research can help you make better business decisions, contact Doug Adams.
Trackback URL: https://thethinkagency.com/dont-be-afraid-market-research-can-be-quick-affordable-and-useful-really/trackback/